Production Team
Matt Mariano
Composer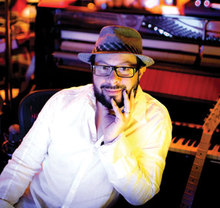 Matthew Mariano (SESAC) composes music for high profile films and television. He is a classically trained pianist and has the unique ability to perform on multiple instruments. Having attended Berklee College of Music, Matt has studied Composition, Music Synthesis, and Audio Engineering. Matt Mariano's productions are based out of his Encino, CA studio. His music can currently be heard every week in FOX's show
Raising Hope.
W
Filmmaker Rick Beyer has worked with Matt on more than half a dozen films over the last 10 years, including The History Channel documentaries
The Wright Challenge
, and
Secrets of Jamestown.
When he's not writing music, Matt enjoys spending time with his family, traveling, and photography."
See Matt at work!