2014 Year End Update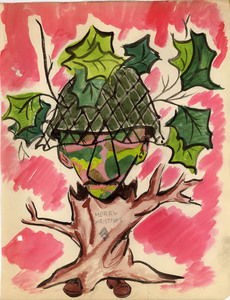 2014 was another amazing year for The Ghost Army. We conducted our first European tour, and it proved a memorable experience for everyone who came along. We staged more than two-dozen screenings, exhibits and other events across the U.S. and in Europe. The film had its German television premiere this summer, bringing to fifteen the number of countries in which it has been broadcast, with more still to come. The film was picked up by Netflix, which has introduced it to many new viewers across the U.S.

Preserving the memory of The Ghost Army is a very important priority, and we have made great progress organizing and expanding The Ghost Army Digital Archive. I recently helped arrange the donation of a group of Ghost Army paintings to Brown University's Anne S.K. Brown Military Collection. Brown now holds the works of four Ghost Army artists, and I hope will become the home of more artworks from the artists in the 603rd. Thanks to everyone who continues to support our archiving efforts with your donations.

You might wonder what's next, and the answer is: Plenty!

For starters, Liz Sayles and I have a new Ghost Army book coming out in April. It is entitled The Ghost Army of World War II: How One Top Secret Unit Deceived the Enemy with Inflatable Tanks, Sound Effects and Other Audacious Fakery, and it is being published by Princeton Architectural Press. The book is already drawing praise from folks such as Tom Brokaw (yes that Tom Brokaw!) who called it a "riveting tale" and added, "I enjoyed it enormously." You'll be hearing more about this exciting new telling of The Ghost Army story in the coming weeks and months.

My wife Marilyn and I will also be leading another European tour in July, once again starting in England and ranging across France, Luxembourg, Belgium and Germany. Registration will open in January, and I expect it to fill up quickly.

Another 2015 initiative is particularly dear to my heart. I will launch an effort to gain official recognition for the accomplishments of this unit. The 23d Headquarters Special Troops never received a unit citation, or any other official recognition for their efforts, most likely because of the blanket of secrecy thrown over this after the war. My goal is to get them awarded a Congressional Gold Medal like that given this year to the Monuments Men. I may be reaching out to you in the coming months to ask you to lobby your congressman and senator on this issue. The 23rd harnessed creativity and imagination to save lives,

Thanks to everyone who has lent a helping hand. Looking forward to a wonderful new year full of more Ghost Army milestones.