Production Team
Rick Beyer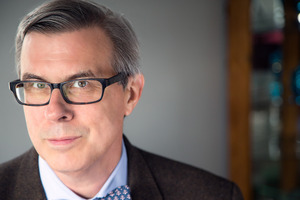 Rick Beyer is an award-winning documentary producer, a successful author, and a long-time student of history.
In addition to producing
The Ghost Army
for PBS he has produced numerous documentaries for The History Channel, The National Geographic Channel, The Smithsonian's National Museum of American History and others. Credits include
Expedition Apocalypse, Emancipation Proclamation, The Wright Challenge
(winner of a Parents Choice award)
Secrets of Jamestown,
and
Timelab 2000
, an award-winning series of history minutes hosted by Sam Waterston.
With Elizabeth Sayles, he wrote the book
The Ghost Army of World War II, which came out in an updated edition in 2023.
He is also the author of
The Greatest Stories Never Told series of history books, as well as Rivals Unto Death,
a dual biography of Alexander Hamilton and Aaron Burr. A resident of Chicago, he frequently writes and lectures on history, and has appeared on NPR, NBC, CBS, CNN Fox News and numerous other media outlets.