The Ghost Army Rough Cut Comes to Manhattan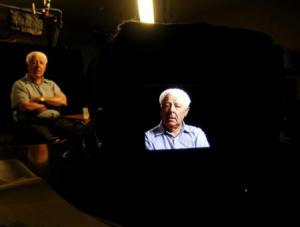 For the last few months I've been assembling Ghost Army interviews, archive footage and stills into a rough preliminary version of the film. The job is far from finished, but we just can't wait to invite supporters and friends of the project to see the film in-progress at an exclusive screening in New York on Sunday, October 26.
Come inside the filmmaking process and take a sneak peak at the first draft of the film. (This will be the first time I've taken the rough cut outside of my edit room, so I am looking forward to the event with great excitement!)
You'll also have a chance to meet and hear from some Ghost Army veterans in person.
If you are near New York City, or can be that weekend, we hope you'll join us.
Sunday, October 26 at 2 PM
Millennium Film Workshop
66 E 4th Street
New York, NY
(East Village near Cooper Square...not far from the Astor Place station)
Please RSVP to 781-652-0224 or rick@ghostarmy.org
Can't Come?
You can still support the film by clicking
here.