Two Original Ghost Army Drawings up for Auction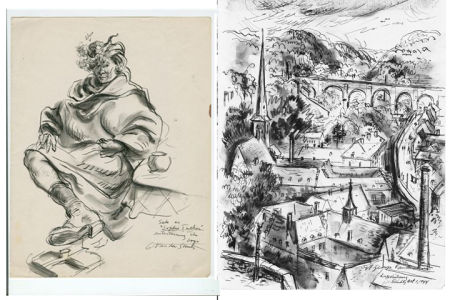 The family of artist George Vander Sluis has generously donated two of his wartime sketches for an auction to raise funds for the documentary film "The Ghost Army" – a unique chance for you to own a piece of WWII Ghost Army history.
The two signed 8 x 10 pencil sketches are nicely matted (unframed), each with brief bio of Vander Sluis, and a letter of authenticity from Jeff Vander Sluis, George's son.
The auction will likely take place online. (Trying to work out the best approach. Suggestions welcome.) Expect details in a couple of weeks.
One is a detailed view of Luxembourg's Old City, where the Ghost Army spent several chilly months. It is dated October 1, 1944. The view from that spot is almost identical today to what it was 65 years ago. (The scan above is grayscale, both of the actual drawings are on ecru paper.)
The other, "Sak as 'Sophie Tucker' entertaining the boys," is a humorous sketch of fellow Ghost Army artist, Norman Sakowitz, in drag. It may have been sketched during the unit's time in Luxembourg City, where they sometimes staged amateur theatricals to pass the time between missions. It captures some of the spirit of the unit that was always in the impersonation business!
Born in 1915, Vander Sluis was a WPA artist before the war. After serving in the 603rd Camouflage Engineers (the Ghost Army's visual deception arm) he spent 35 years as an art professor at Syracuse University. His work has been shown at numerous exhibitions, and he became quite well known.
In the 1960's he painted designs on old barns in upstate New York to encourage barn preservation. That effort reported in the New York Times, and according to son Jeff, eventually landed George on the TV game show "To Tell the Truth." He also designed several stamps for the USPS. Vander Sluis died in 1984.
Questions? email rick@ghostarmy.org