THE AUCTION HAS BEGUN!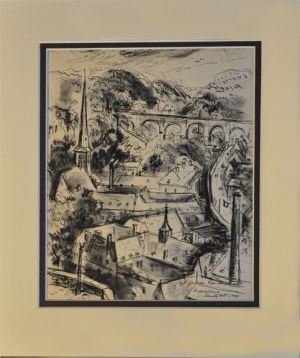 An original pen-and-ink by Ghost Army artist George Vander Sluis is now being offered for auction on E-Bay to benefit the documentary film "The Ghost Army."
Click here to go to the auction.
This is a signed original sketch of Luxembourg City done in 1944. It was donated by the family of the artist. The 8 by 10 artwork is on ecru paper. Nicely matted with acid free materials, it is unframed, and fits into a standard 11 by 14 frame. (The sketch comes with a brief bio of George Vander Sluis, and a letter of authenticity from Jeff Vander Sluis, George's son.)
The auction will last seven days. Please bid early and often! The winner will make a donation either by credit card (via Paypal) or ebay and receive a receipt allowing them to deduct the purchase (minus $200) from their taxes.