Ghost Army Veterans
George Vander Sluis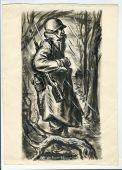 Born in 1915, George Vander Sluis studied at the Cleveland Institute of Art, and began to teach art at the Broadmoor Academy (later renamed the Colorado Springs Fine Arts Center) before joining the Army.
As part of a WPA program, he painted the mural below for the US Post Office in Rifle, Colorado.
Vander Sluis did a large number of pen and ink sketches, including the ones below of Trevieres, France, that were published in Yank Magazine in August, 1944.
After the war, Vander Sluis went on to spend more than 35 years as an art professor at Syracuse University. His work has been shown at numerous exhibitions, in places such as the Metropolitan Museum of Art, the Art Institute of Chicago, and the Whitney Museum.In the 1960's he began painting designs oit n barns in upstate New York as a way to encourage barn preservation, an effort that was written up in the New York Times. According to his son Jeff, eventually landed him on the television show "To Tell the Truth." He also designed several stamps for the USPS.
George Vander Sluis died in 1984.
To make a tax-deductible contribution to the film, click on the button below: