Updated Edition of Ghost Army Book Released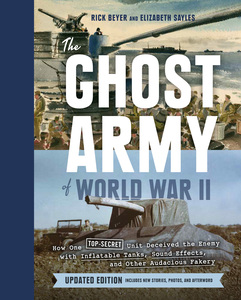 A new updated edition of The Ghost Army of World War II, by Rick Beyer and Elizabeth Sayles, was released on October 10.
The book tells the story of the 23rd Headquarters Special Troops, a U.S. Army unit in World War II that used inflatable tanks, sound effects, radio trickery, and all sorts of illusion to fool the Germans on the battlefields of Europe. The unit carried out 22 deception missions on the battlefields of Europe and was awarded a Congressional Gold Medal in 2022.
The new edition features a 16-page afterword detailing some of what has been learned about the unit since the first edition came out in 2015, and telling the story behind the lobbying effort for the Congressional Gold Medal. It also includes 20 never-before-seen images, including beautiful tintype photos by portrait photographer Mark Mann taken of Ghost Army soldiers.
"We've heard so many stories, and seen so much new information, it is really rewarding to be able to include that in this new version of the book," said co-author Rick Beyer. "I'm thrilled that Princeton Architectural Press was able to bring this out just as we are planning for the Gold Medal award ceremony. We want to make sure these men are never forgotten."
Here's a link to various sites where you can order the book.