Ghost Army Veterans
Bill Blass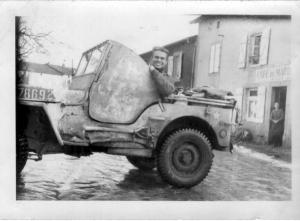 Famed fashion designer Bill Blass is certainly the best-known member of the Ghost Army. He was memorable even at the time: I have unearthed many sketches of him by other Ghost Army soldiers, and wartime photos show him cutting a glamorous figure.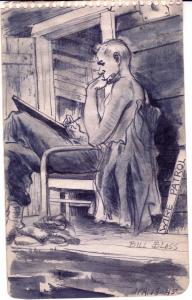 Wonderful Guy" says Jack Masey, "Read Vogue in his foxhole." Bill Sayles remembers him as having a great attitude: "He would never shirk a duty. If it was cleaning trash cans, he was right there with a smile and beautiful teeth."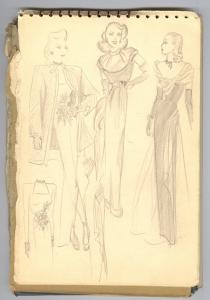 While soldiers were sketching Blass, he was filling up notebooks with fashion designs. Two notebooks of Blass designs remain in the Blass Archives, showing a portion of what he was dreaming up during the war. "He would sit on a bunk bed on Saturdays and Sundays, and he would do little thumbnail sketches of clothes, Sleeveless, sleeves, short skirt, long skirt, all this kind of stuff," says Sayles. "And he would, in two half-days, do about 300 to 400. Just little thumbnail sketches. Then he'd wrap it up, send it down to Buenos Aires, or Rio de Janeiro. He had some contacts there. And they would pay him $2 apiece. He did pretty good."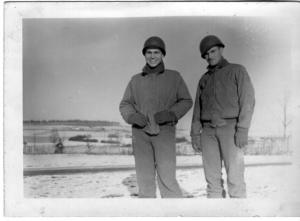 Almost all of the photos of Blass taken during the war show him grinning away madly. In his autobiography, Bare Blass, he offered this explanation:
"For me, the three and a half years that I spent in the army represented absolute freedom. I was truly on my own for the first time in my life. So, naturally, in that exuberant state of mind, I didn't always notice how bad things were.ˆ
Images courtesy of Bob Tompkins and The Bill Blass Archives