Ghost Army Veterans
Victor Dowd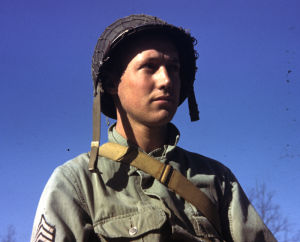 Victor Dowd was a Sergeant in the 603rd Camouflage Engineers. "I did hundreds of drawings. It isn't as though we weren't busy. But you have to realize, no matter how busy a soldier is, there's always down time. Soldiers are playing cards, they're shooting craps, they're playing solitaire if theyre all alone, theyre reading. And I drew. I just developed the habit, and I don't think its ever left me."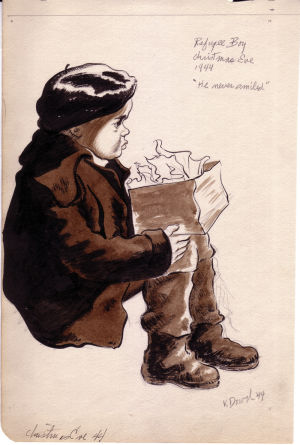 Among his many drawings are moving pictures of refugees, in World War II parlance DP's--"Displaced Persons," like this small boy at rgth who Dowd drew in Verdun on Christmas EVe 1944, and refugees at the DP camps the Ghost Army helped operate in April of 1945.
He had a wide and varied art career after the war. He did some comic books with Stan Lee (creator of Spiderman) at Marvel Comics. Eventually he got into advertising illustration. "I did thousands of drawings of beautiful women holding products. In those days, the newspapers and the magazines were full of drawings. Today with the computer thats no longer the case. " He illustrated 20 books, and also spent 15 years as a fashion illustrator. "So my whole life has been drawing. And its been a good one."