Ghost Army Veterans
Jack Masey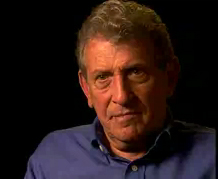 Jack served in Company B of the 603rd Camouflage Engineers. He was good friends with Bill Blass, and created a book of caricatures of the men in his company that he had printed in Luxembourg, and distributed to the men of the unit.
After the war he went to Yale and then ended up in the foreign service, designing US exhibits all over the world, including the model kitchen in which the so-called
Kitchen Debate
between Nixon and Kruschev took place in 1959. Masey also worked on the American Pavilion at the Expo 67 Worlds Fair, hiring his Ghost Army buddy Bill Blass to design the uniforms of the hostesses at the Pavillion. Since leaving the foreign service, his credits include museum installations at Ellis Island, the
World War II Museum,
and the Johnstown Flood Museum.
He was interviewed on July 18th, 2006, in New York City.
See a clip from that interview.