Ghost Army Veterans
Arthur Singer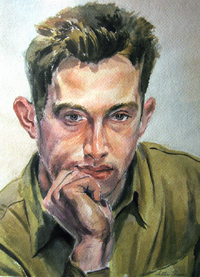 Arthur Singer served in Company C of the 603rd Camouflage Engineers. Fellow soldiers recall his prowess with watercolors, and he painted many while serving in the Ghost Army. After the war he went on to become a legendary wildlife artist. He illustrated more than 20 books, including the enormously popular
Birds of North American.
He and his son Alan also created the
"Birds and Flowers of the Fifty States"
series of postage stamps, which came out in 1982. Arthur Singer died in 1990.
In the wake of the Battle of the Bulge, The Ghost Army was pulled back to the French town of Verdun, scene of terrible fighting in the previous war.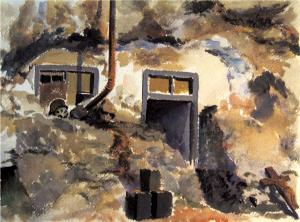 "It reeked of World War I," recalls Bob Conrad, from the Signal Company Special. Singer painted this haunting scene of an abandonded French fort there. At least one other Ghost Army artist, Ned Harris, sketched the same scene.