Ghost Army Veterans
Ned Harris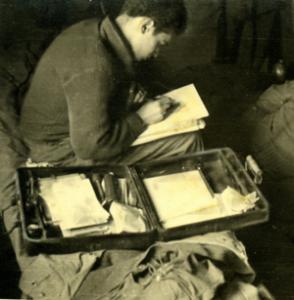 Ned Harris served in Company C of the 603rd Camouflage Engineers. He studied art at the Pratt Institute in New York City before joining the Army and ending up in the 603rd After the war he became a photographer and designer, and eventually became a co-owner of the New York design firm Wallack and Harris. He is the author of the book
Form and Texture, a photographic portfolio."
Today he keeps busy curating various photography exhibits and experiments with a digital scanner and common house and garden items to create his own unusual artworks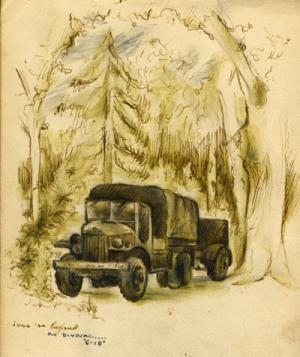 Harris was an assistant truck driver in the Ghost Army, and recalls that he grew "very fond" of his two-and-a-half ton truck (known in the Army as a "deuce and a half"). The driver of the truck was George Diestel, who later became an actor and set designer in Hollywood.
Harris found a German grenade case that he used as a receptacle for all his art materials: my paper and ink and the paints, "and whatever I found as I went along."