National WWII Museum Launches Ghost Army Exhibit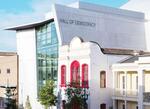 The National World War II Museum in New Orleans will unveil a new exhibit on the Ghost Army March 5, 2020. It's entitled
Ghost Army: The Combat Con Artists of World War II,
and will occupy the first floor of the museum's brand new Hall of Democracy. The Ghost Army Legacy Project is working with the museum to develop the exhibit. The exhibit will run until September 13.
The museum has commissioned several new inflatables and is developing interactive elements to help visitors simulate taking part in sonic and radio deception. Oral histories will appear on TV screens. There are plans to recreate the façade of a phony HQ from one of the operations. It will also feature uniforms and personal items donated by veterans and their families.
The exhibit opening on March 5 at 5 PM, featuring remarks by curator James Linn and Ghost Army author/filmmaker RIck Beyer, is open to the public. It is also expected that a number of Ghost Army veterans will attend. You can
reserve a space here.
The opening night event will also be
streamed on Livestream.