THE GHOST ARMY Grabs a CINE Golden Eagle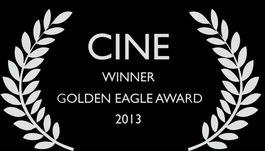 THE GHOST ARMY has been honored with a prestigious CINE Golden Eagle Award. For over 50 years, the CINE Golden Eagle Award has signified excellence within the film and television industry. Winners are chosen twice a year through a rigorous two-tiered judging process. Previous honorees include such notable filmmakers as Stephen Spielberg, Ron Howard, Ken Burns, Werner Herzog, and Albert Maysles.

The film won in the Television Documentary/History category. Other winners in this category include Robert Redford as Executive Producer of All The President's Men Revisited and Ric Burns for the American Experience film Death in the Civil War.

"I am thrilled and honored to receive this recognition from my peers," said filmmaker Rick Beyer. "This award also belongs to the 700 plus donors who made the film possible, and the many talented professionals who brought it to life. What a fine tribute to the veterans whose stories we told."

THE GHOST ARMY, which premiered nationally on PBS in May, tells the story of a handpicked group of GI's, many of them artists, who used creativity and illusion to deceive German troops across the battlefields of Europe during the Second World War. Armed with truckloads of inflatable tanks, a massive collection of sound effects records, and more than a few tricks up their sleeves, their job was to fool the enemy about the strength and location of American units. Every move they made was top secret and their story was hushed up for decades after the war's end.

The film, which recently had its European Theatrical Premiere in Luxembourg, is now available from PBS Home Video. As the 70th anniversary of D-Day approaches, Beyer is also doing numerous screenings and talks both in the US and Europe.