Ghost Army landing on Utah Beach Seventy Years Ago Today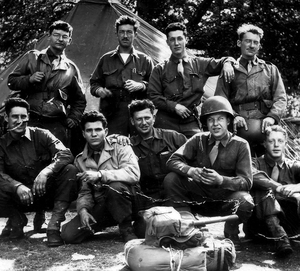 Seventy years ago this month, The Ghost Army went into action in Normandy. Many landed on Utah Beach this very day, June 24. Over the next nine months they carried out 21 different battlefield deceptions to help defeat Hitler's legions, and save thousands of lives in the process.
Today we continue our efforts to tell their story and celebrate their contributions to the war effort.
In December we set a goal of raising $15,000 to support expanding, organizing, and preserving the Ghost Army digital archive. We have raised half that amount, and today I am launching a ten-day fundraiser to get the rest of the way by July 4. (That's the date that the Ghost Army's first full-scale deception, Operation ELEPHANT, came to a conclusion.)
We have already made a great deal of progress.
• We have created a searchable list of Ghost Army soldiers accessible on our website. (Since no master list previously existed, this had to be painstakingly assembled from multiple sources.)
•An archivist is cataloging research materials gathered over the last nine years using the museum software Past Perfect.
•We have begun digitizing a wide array of documents relating to the story.
•We are in the process of reaching out to various institutions to find a permanent home for the material – one where most or all of it will be available online.
Up next: A trip to the National Archives in Washington soon to look through comb through declassified files for documents that may add new details and perspectives.
Please help preserve the memory of The Ghost Army as we celebrate this anniverary.
This work NEEDS YOUR HELP to continue. It may not be as glamorous producing the film, or mounting an art exhibit, but it is vital to preserving the memory of this unit.
Click here to make a tax-deductible donation via credit card!
You can also make a tax deductible donation by check. Make the check out to "Center for Independent Documentary" and mail it to Rick Beyer, Plate of Peas Productions, 34 Outlook Drive, Lexington, MA 02421. You will receive a tax receipt in the mail.